Termites cause a great damage to farm yards and wooden buildings in the USA annually. This wood pest problem is a current affair for many homeowners worldwide. Termite control companies offer a large choice of chemical and non-chemical termicide products for the insect extermination. The most widely applied treatments are the elimination with sprays,  foams and essential oils, spot baiting stations, fumigation. Due to the current research, some homeowners have started to use electronic bug and insect killer traps such as a termite light trap for elimination.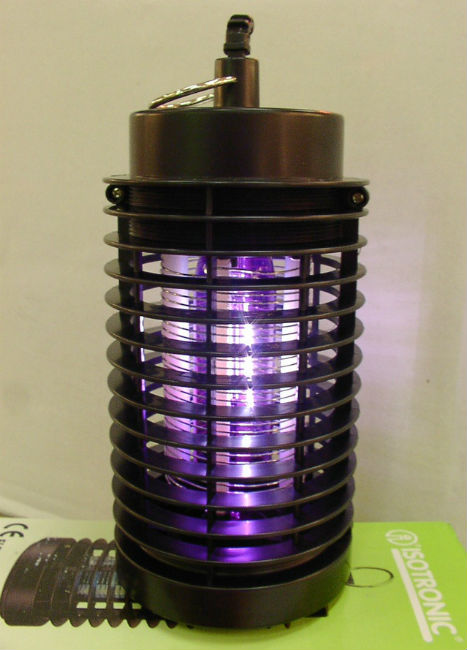 Light sensitivity of different termite castes
US researchers studied the light behavior of different termite species, especially Formosan subterraneans 1 and their family members. They came to conclusion that different castes possess different sensitivity to light. All types of these wood pests feed and breed inside the lumber or in the ground in absolute darkness. If they "see" or feel light waves, they tend to avoid these exposed areas. In nature, blind subterranean workers and drywood nymths immediately seal all the holes, cracks and damages in their tube-systems. Soldiers get the cue of danger when they feel the heat waves from light beams with photosensitive areas on their body. Alates or swarming termites have developed functional eyes. Due to this fact, they are the most sensitive to light and they don't tend to avoid the glim. On the contrary, they are attracted by natural daylight during their swarming season, as they fly away from their nest through holes in search of a new place of habitat. Formosan subterranean winged reproductives are attracted to the moonlight at night, drywood and dampwood alates – to the morning sunshine.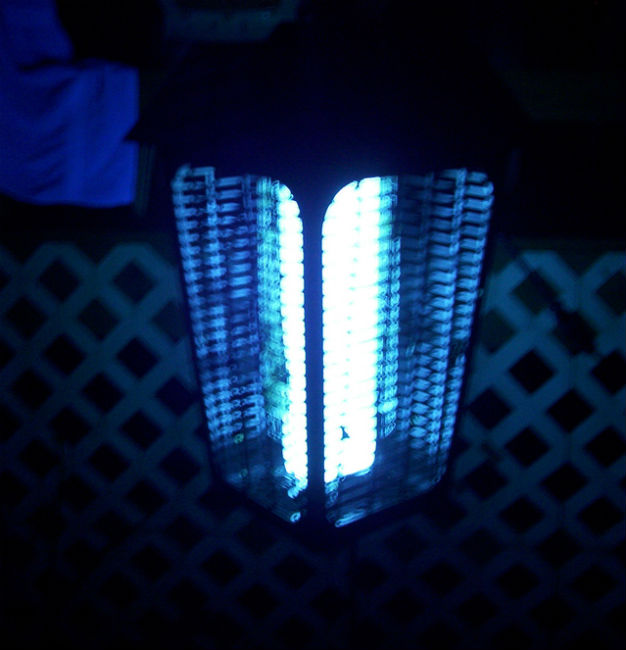 The role of light in a termite killer device
Sensitivity to 0.6 lux intensity helped the researchers understand the attractive benefit of light in a termite light trap. It can be of several types. Some of insect killers resemble in appearance lanterns and should be attached to the house or other structures.
The first type of a termite light trap includes solar-powered light bulbs, which shine on an exterminator trap (sticky board or paper). Bugs and insects are attracted to the light, approach the glue paper and get stuck on it.
Catchmaster 908 GLOstik Flying Insect Trap

Gardner WS-95 Wall Sconce Flying Insect Fly Light Trap – Black
The second type uses UV fluorescent bulb, which generates warm light, attracting flying termites and other pests. Then built-in vacuum fan sucks the insect in to a special chamber – the retaining cage – where it dies from dehydratation.
Dynatrap Ultralight Insect and Mosquito Trap
The third type also contains a source of light and a killing grid. Attracted to the glow, flying termites get zapped on electric grid.
Electronic Indoor Insect Killer Zapper – 15.5 Inch, 20W

#1 Electronic Bug Zapper – Pest Sentry Insect Killer – The Ultimate Mosquito Killer – 16 Inch (20W) – Eliminates all Flying Pests – The Safe, No Fuss Insect Trap! – For Home & Commercial Use
To sum up, light beam can be used for termite attraction to the trap and for annual pest inspections (tracking the activity of wood insects, monitoring their location and identifying the species).
The advantages of an electronic insect killer
1) The device is non-toxic, non-chemical, eco-friendly, safe to pets and humans itself
2) It can be used inside and outside home
3)It can work at night and during the day time
4) It can be used not only for winged termites, but also for other bugs and insects all at the same time
The disadvantages of a termite light trap
This trap device can be used only for flying termite reproductives
It can work best only at night, as during the daytime there are many other sources of light, and the attractive function of a termite light trap isn't performed effectively
It is highly effective only for Formosan alates, which swarm at night
It should be attached in covered, rain-protected areas