In the United States, some species of ticks can cause a viral tick disease in humans. For example, Colorado tick fever, Heartland virus infection and Powassan virus disease are common in the U.S. Fortunately, cases of these illnesses are rare and occur only in several regions. The only way to prevent the infection is to avoid the tick bites in areas where tick-borne viruses circulate.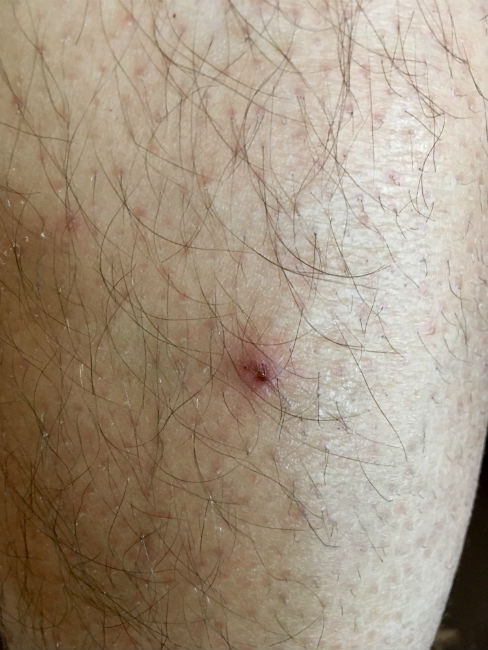 Colorado tick fever
Colorado tick fever (CTF) is a rare viral tick disease. The CTF virus, that causes the disease, is spread to people through bites of infected Rocky Mountain wood ticks (scientific name: Dermacentor andersoni).
In fact, the virus can't be spread from person to person, except in rare cases via blood transfusion. The virus is circulating in the western Canada and western USA. The cases of Colorado tick fever typically occur in the Rocky Mountain areas that are 4,000-10,500 feet above sea level. People who live in or visit the highlands can get infected with CTF virus primarily from March to August. During spring and summer months Rocky Mountain wood tick females are most hungry and active.
To detect CTF virus genetic material (RNA) or antibodies against the virus in blood, physicians typically apply laboratory tests. The incubation period (time from tick bite to onset of illness) ranges from 1 to 14 days. The most common symptoms of CTF are fever, headache, chills, body aches, fatigue, and feeling exhausted. However, in some cases the patients have sore throat, stomachache and vomiting, skin rash, or stiff neck. About half of all people infected with CTF virus have several days of fever followed by several days of improvement. Then, a second short period of fever and disease occurs.
In fact, there are no specific medical treatments of CTF. However, in some severe cases, patients need supportive therapy to keep the fever down and to reduce pain. The best measure to prevent CTF is to reduce your risk of tick bites.
Heartland virus infection
Heartland virus infection is caused by the virus that belongs to a family of Phleboviruses. This viral tick disease primarily occurs among residents of Missouri and Tennessee during May – September. It is still unknown nowadays if the virus may be found in other areas of the USA. However, phleboviruses can be identified all over the world and can cause illnesses in people via the bites of mosquitoes, sandflies, or ticks. It is not yet fully known how people become infected with Heartland virus in the USA. However, recent studies suggest that most cases were caused by the bites of Lone Star ticks.
The clinical signs of Heartland virus infection can be initially identified as ehrlichiosis. The most comon symptoms are fever, headache, body aches, fatigue and different stomach problems (anorexia or loss of appetite, nausea and vomiting, diarrhea). Beside, patients also have thrombocytopenia, leukopenia and mildly to moderately elevated liver transaminases.
There are no specific medications or therapies for treatment of Heartland virus disease. Patients get supportive care to keep the fever down and to make up for the loss of fluids. Fortunately, most cases end in full recovery.
Powassan virus disease or Powassan encephalitis
Powassan encephalitis or POW virus disease is a serious viral tick disease. It is caused by a virus spread by infected blacklegged (Ixodes scapularis) and groundhog (Ixodes cookei) ticks. POW virus belongs to a group of arboviruses that can cause inflammation of the brain (encephalitis). Fortunately, POW viruses can't be transmitted directly from person to person.
Most cases of POW disease in humans occur in the northeastern states and the Great Lakes region of the USA during the late spring, early summer, and mid-fall when ticks are most active.
The incubation period ranges from 7 to 30 days. In most cases Powassan virus disease is asyptomatic. However, POW virus can develop inflammation of the membranes that surround the brain and spinal cord (meningitis) and  inflammation of the brain (encephalitis). Patients can have fever, fatigue and weakness, loss of coordination, headache, confusion, vomiting, speech difficulties, and seizures.
A combination of signs and symptoms and laboratory tests of blood or spinal fluid typically help physicians to make a diagnosis. There is no specific medicine to cure POW virus disease, therapy is only supportive to reduce symptoms and pain. Treatment for Powassan encephalitis includes hospitalization, respiratory support, and intravenous fluids.
How to avoid viral tick disease
There is no vaccine to prevent tick-borne illnesses. The best way to prevent viral tick disease is to reduce your risk of tick bites. Preventive measures and thorough tick checks are the most effective.
Try to avoid wooded and shrubby areas with high grass. If possible, postpone your picnics, bbqs, rambling and hiking  in the areas where tick-borne viruses are circulating during spring and summer months.
Wear light-colored clothing, better long sleeves and pants. When outdoors, apply tick repellents to bare skin (containing DEET) and to clothing and gear (containing permethrin), as directed on the product label.
Perform full-body tick checks after spending time outdoors. Remove ticks immediately before they have a chance to bite, attach and suck your blood. In addition, examine your clothing, gear and pets.
Consult a physician if fever, rash, or other symptoms of concern develop. Indeed, they can be clinical signs of a viral tick disease.