Bed bugs are tiny home pests that resemble apple seeds. They hide in sockets, baseboards, in and under mattresses, in crevices under the bed and even behind the wallpaper. It doesn't matter how clean your dwelling is. They may enter  your home from your neighbours and kiths via voids and sockets in the walls. They may be brought with baggage. An upmarket hotel can be infested with bed bugs as well as a run-down hostel or motel. Blood-sucking activity of these pesky insects can cause raised red skin, inflammation and scratchy welts. These are the signs of an allergic reaction to bed bug bites.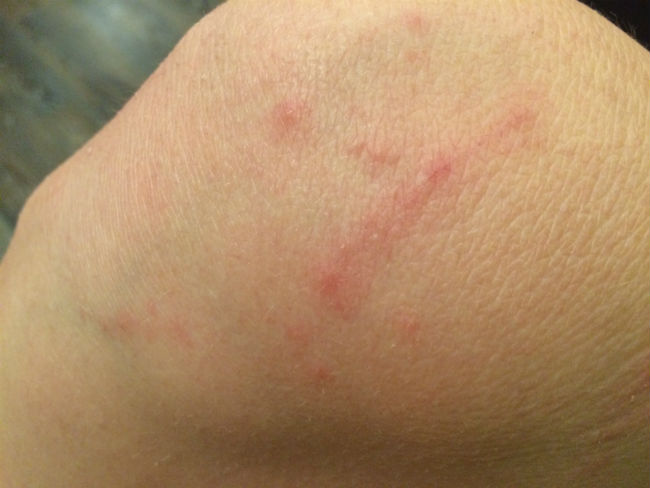 Bed bugs feed on their hosts' blood when people are in deep sleep. Each bed bug stings three times per night. As a rule, any bites of bed bugs do not hurt at first, as the insect saliva has an anesthetic effect. Though, later they turn into itchy red lumps.
What is an Allergic reaction to bed bug bites?
Any allergic reaction is a response of the immune system to antigens, or foreign substances, such as saliva of blood-sucking insects. Harmful toxins from saliva of bedbug bites may result in allergy. As a rule, blood-sucking insects inject into the skin their saliva to delay blood clotting. The greater part of humans suffer from mild allergic reaction to bed bug bites. In fact, a common reaction to toxins in saliva is inflammation. You may notice that the skin around the area of the bite is red, inflamed and swollen. Bed bug welts are itchy, painful and tend to be scratched. They may look like a mosquito bite (a white raised lumps), a rash or irritation, or in the form of big red swellings on the skin. They are tender to the touch and have a smell of brandy.
If you experience an allergic reaction to bed bug bites, it means your immune system will produce the same response each time it encounters this toxin or antigen.  Although most allergic reactions are relatively harmless, others are more serious and can affect the vital systems of a human body. Hives, panting or anaphylaxis and other symptoms are life threatening allergic reactions. Seek medical help in the case of severe allergy to bed bug bites as soon as possible.
How to Treat a mild Allergic Reaction to bed bug Bites
In practice, the symptoms of an allergic reaction to bed bug bites can be relieved by taking an over-the-counter oral and topical antihistamine medication. They will reduce redness and inflammation. Besides, they will stop the affected area from itching. First, wash the inflamed bedbug welts with warm water and soap. You may place an ice pack wrapped in a towel for 10 minutes to soothe the itching. Then, cover them with an antiseptic bandage to prevent scratching and infection.
The best solution in the case of any allergic reaction to bed bug bites is to call a doctor. Take anti-histamine drugs or apply a cream only if your doctor prescribes. The antihistamine topical cream may contain an active ingredient of cetirizine, diphenhydramine, chlorpheniramine maleate or loratadine. Follow the dosage instructions as prescribed by your doctor or directed on the package. In practice, it is necessary to spread a thin layer of antihistamine cream on bed bug welts. It will relieve the effects of severe allergic reaction to the bites.
As for pills, your doctor may recommend you to take anti-histamine Zodac, Claritine, or Benadryl and anti-inflammatory Naproxen or Ibuprofen. They will reduce the pain, itchiness and redness in the inflamed areas. Take the pills as prescribed orvdirected in the medication label. Moreover, they come into action in 15 minutes and last 8 hours.
What to Do in the case of Severe Allergy?
If you experience a difficulty in breathing, call in an ambulance or seek medical help immediately! It is an anaphylactic response to the toxins in the bedbug's saliva and it is life-threatening. If you suffer from a severe allergic reaction to any bites, you might have an epinephrine injector. It is well-known as an Epi-Pen. So, apply your Epi-Pen directly above the area of the bed bug bites. Then, call for medical help immediately.
How to Protect yourself from Bedbug bite Allergic Reactions
About 70 % of people worldwide experience an allergic reaction to the bed bug bites in the form of a dermatitis or a red rash. In fact, it will take several days for the itchiness and redness to fade away. Moreover, it is obligatory to exterminate bed bugs at home to protect yourself from their attacks and to prevent allergic reactions to their bites.