Natural rat poison acts as a dehydrant. The rodents will die outdoors in several days after they consume the bait. The natural dehydrant can be corn gluten meal, soybean oil, soy hydrolysate, corn cob, cellulose, castor oil, sodium chloride, linseed oil, and cottonseed oil. They are for indoor and outdoor use.
They are safe to humans and their pets. Moreover, there is no risk of secondary poisoning to non-target animals and birds of prey either. Hence, natural rodenticides can be widely applied in livestock yards, farms, cafes, centers, game farms, industrial and retail premises, storehouses, schools, hospitals and other public areas and buildings in urban and rural locations.
Scientists carried out testings on humans, dogs, cats, chicken, rabbits in professional laboratories. Fortunately, they didn't record any side effects and deaths.
Natural rat poison is fully biodegradable and environmentally friendly.  It does not contaminate fields and crops.
Corn gluten RatX is a natural rat poison
Vegetable and cereal grain pellets with corn gluten are commonly used for rat extermination. One of the well known products is RatX. It is a natural rodenticide that kills common rat pests in houses and outdoors. Corn gluten grains are non-toxic to people, pets, raptors and all other wildlife.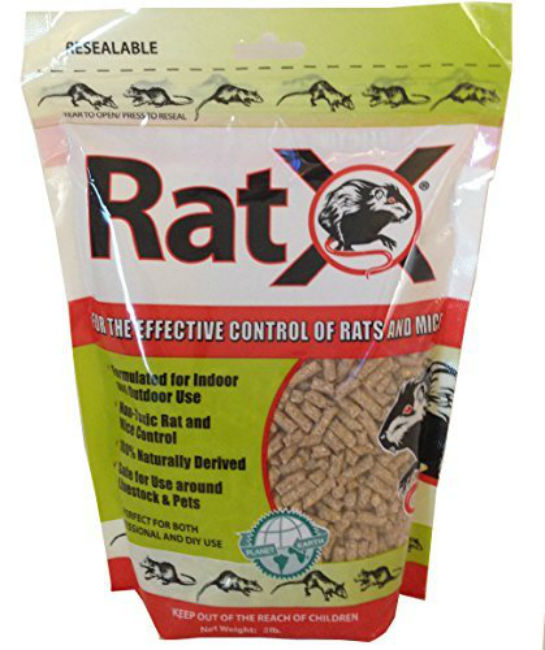 Corn Guard from corn cob and cellulose
Corn Guard is a new naturally derived rodenticide. It contains 95% powdered corn cob and 5% cellulose. Thus, it is a safe alternative to chemical products. Corn guard does not cause secondary poisoning. Moreover, rats and other rodents can't develop immunity to the product and become natural rodenticide resistant.
Corn Guard is a ready-to-apply bait. You may use it anywhere, there is no need for bait trays. Beside, it is highly effective, and even more so than conventional rodenticides in the market today.
The natural rat poison Corn Guard is non toxic to pets, children or non-target animals as its active ingredients are on the FDA list as food additives. Moreover, the bait does not pollute the environment.
Corn Guard has been approved by the Ministry of the Environment (license number 588). 1
How does the corn dehydrant work?
The rats consume RatX or Corn Guard as a food source. In fact, the rodent digestive system is different from any other animal or human. The natural rodenticides coat the critters' stomach lining and block all messages to the brain to drink water.
Rats and mice are simply unable to digest the corn cob powder and corn gluten meal. Thus, the ingested baits cause the rodents to dehydrate. The corn cob and corn gluten absorb the liquids in the intestine, resulting in low blood pressure, blood thickening and circulatory collapse. Thus, the rats become lethargic and retreat to their burrows and nests. Afterward, they slip into a coma and die from a heart attack.
You may start finding the dead corpses of rodents within a day or two after feeding. Fortunately, you won't smell from decomposition of decaying rats due to the dehydration and fast mummification process.
How to apply RatX™ and Corn Guard
At first, take away all other food sources from the infested area. For successful rat extermination, RatX™ or Corn Guard must be the primary food source available to the pests in the area to be treated. Effective application mode of RatX is 40-60 grams or 1.5 to 2 ounces of product per rat.
Thus, place the bait in bait trays or paper plates in all areas where the signs of rodent activity are seen, especially along their runways and around holes. In addition, make up small parcels of product using clinging food packaging film or small sandwich bags and place directly into rat holes. Moreover, put the natural rat poison into voids through which rats are running.
If you use the baits outdoors, try to keep them dry in boxes as wetting may reduce effectiveness. Check the corn gluten dehydrant regularly and continue to bait until rat activity ends off. Where there is alternative food sources, it is necessary to use the natural gel bait (rat attractant) which goes along with Corn Guard. Smear a small amount of gel on the bottom of the tray and place the bait on top.
Do not scatter the rodenticides or mix them with any other eradication products. In fact, do not expect the pest rats will feed on the toxic meal immediately. It will take time for the rodents to get used to the new, unfamiliar plates and boxes that you have placed.
For severe infestations it is better to purchase a large bag of natural rodenticide  Ecoclear Products RatX 620102 All-Natural Non-Toxic Rat and Mouse Killer Pellets, 3 lb. Bag
Results of natural rodenticide treatment
Rats' activity declines as death occurs within 4 to 7 days of regular feed intake-sightings reduce as rodents generally die in their burrow. You will find bleached in color and larger in size fecal droppings. It means that the rodents have consumed the bait. You may see more rats during the treatment as they become lethargic and slower to react to disturbance.