Significant termite damage to living structures and crops is caused by wood pests yearly in the subtropical and warm regions of the U.S.A. Making homeowners spend billions to treat infestations, repairing termite damage caused.
How To Spot, Evaluate, And Repair Termite Damage
Early detection is the key to limiting the scope of termite wood damage. Termite damage repair may be difficult. This is because most homeowners seldom see them lurking in subterranean nests and devouring wood from inside walls. However, there are several ways to spot the signs of termite damage and fix the problem.
Although termites are ecologically beneficial (breaking down detritus to add minerals to soil), their feeding behavior of (that has been helpful to the ecosystem) can result in serious damage to human homes. Since termites primarily feed on wood, they have the ability to compromise the safety and strength of an infested structure. The damage they cause can render living structures useless until expensive repairs are carried out.
Moving on, we would learn tips on how to spot the signs of subterranean termite damage, and dry-wood termite damage as well as how to fix termite damage generally, and termite wood damage. We would also learn about termite inspection and termite inspection report.
How Do you Know if you Have Termites?
Homes constructed with wood aren't the only living structures that can be affected by termite activity. Homes made with other materials can host termite infestations, because these insects can traverse through metal siding, plaster, and more. They feed on cabinets, ceilings, floors and wooden furniture within these homes. So how do you detect termites?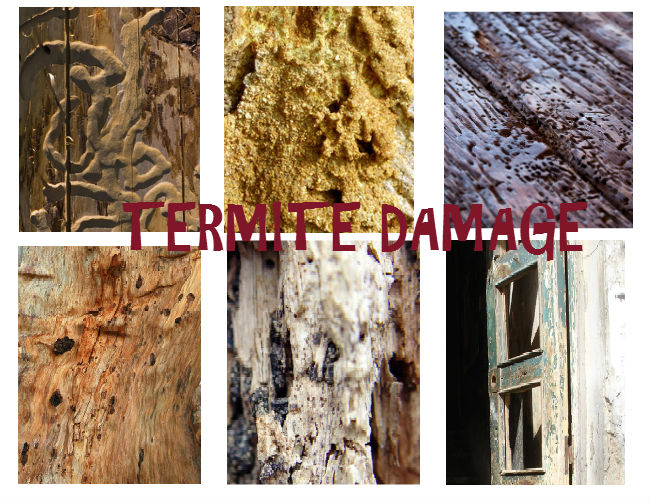 If you suspect that a part of your property has termites, cut off a piece of wood from the area. Look for other signs of termite infestation and you may find clues even if you are not able to see the insect. Some visual evidence of a termite colony include floors that sag or buckle, pinpoint holes in drywall, loose tiles, wood that sounds hollow when tapped or damaged wood crumbling easily.
Signs of Subterranean Termite Damage
Subterranean termites stay underground in damp, loose soil. Signs of an infestation can be noticed through the mud tunnels that these termites create from mud, saliva and feces. The tunnels are usually located close to the foundation of the infested property. Subterranean termites eat soft wood along the grain which produces a honeycomb pattern on the wood.
Signs of Drywood Termite Damage
Drywood termites make their colonies within the wooden structures they feed on. They are found inside of furniture or walls. An infestation may become apparent only when a colony has burrowed deeply into an infested area or item to the point that the maze-like tunnels and the veneer cracks beneath have become visible. Drywood termites usually excavate large parts of wood by chewing against and along the wood grain. Because they live inside where they feed on, they are almost never seen outside of the colony. They push fecal pellets outside their chambers and tunnels. The wood-colored mounds usually accumulate on the flooring under the infested parts of the wood.
How to Fix Termite Damage
1. Remove dead stumps and trees in/around your yard
Decaying wood is a top food choice for termites so if you keep plenty of spare construction materials or firewood, make sure they are kept far away from your home. If you eventually bring the wood into your house, try to look for evidence of termite presence such as hollowed feeling or holes in the wood.
2. Use treated wood to construct your home
The chemicals used to treat wood can be a deterrent to termites. Treated wood can make your property less appealing to a colony of termites.
3. Examine the common termite entry points
The most common way that termites get into your home is by wood to ground contact, like a door frame, wood support beams or deck posts. Check these spots for signs of termites on a regular basis. Drench any stagnant water around the area, and treat wood with chemicals that prevention that repel termites.
4. Do not spread mulch close to your home
You can keep mulch in your house but avoid keeping it anywhere that touches your foundation or siding. Mulch creates moisture in soil and prevents wood from growing, which are both conditions that termites seek.
5. Have termite shields install
They are metal shields that you can put along your foundation to deter termites. They are made of non-corroding metal and have no gaps. Termite shields can stop termites from getting access wood structures or foundations of your home.
7. Use wood hardener or filler
You can fill the damaged sections of the wood by using a wood hardener or filler. Apply the filler with a putty knife to the damaged parts of the wood or sections eaten off by termites. Make sure to get bubbles from the hardener so as not to leave any gaps.
8. Replace the affected wood
If the affected structure is a deck, it is best to simply remove and replace the wood. You can do this on your own or call a contractor.
Termite Inspection and Termite Inspection Report
Termite inspection is carried out by termite inspectors. These inspectors can determine any potential termite infestation for homebuyers. Termite inspection reports outline any existing termite damage and areas liable to future infestations. The areas of concern are the lower levels of a house or open access points in its foundation and areas with significant moisture deposits. These areas are corrected by professional pest control companies.