Traditional wooden rat trap with a metal spring has been used to eradicate different species of rodents for ages. There is a great variety of classic trappers on Amazon, ebay and at your nearest home depot. You may find classic Victor rat traps, Harris rat traps, Swissinno Solutions Wood rat traps, and, of course, lots of cheap Victor-type knock-offs. They are effective against the Norway and roof rats if baited, set and used as directed.
Victor snap rat traps
Classic Victor rattraps are bigger than mouse traps. They are easy to set and very effective. Victor rat snap traps with metal or plastic pedals can catch a rat about 4 inches long (not including the tail). You may simply bait the trap with peanut butter. Use chemical-resistant gloves to avoid leaving your scent on the bait and trap. Then, set the trap with the quick trigger. In fact, there are two different triggers for the trap.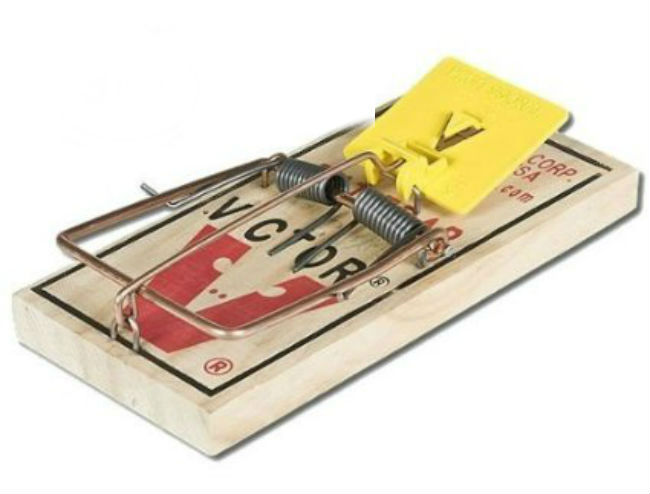 A small rat is likely to take the lure without springing the trap. Adult rats are more difficult to trap as they are extremely cautious. They won't come near a trap, if it has trapped a rat before. Thus, it is better to discard the trap after it has snapped a rat.
A mouse trap isn't strong enough to trap anything larger than a house mouse or a small field mouse. Apply many rat traps along base line of buildings or in infested areas where you've seen the rodents.
Measures for Safe Application of wooden rat trap
On the one hand, the wooden rat traps are too sensitive to snap immediately. They are highly effective against rodents. On the other hand, the wood-and-metal rat traps may be harmful to humans and non-target animals if used as not directed. They are really scary. Always be careful and worry about smashing the fingers by accident while trying to get it into position. Moreover, the traps may even snap closed several times before you can get them set. Thus, use the wooden rat traps at night in the areas that are off-limits to humans and pets. Beside, always "unset" them in the morning to avoid accidental damage.
How to unset the trap? Simply use a stick, cardboard or something else to activate the trigger to snap. Or, you may depress the handle hold it open and disengage the trip.
As the Norway and roof rats are vectors of diseases, keep your hands off the corpses. Thus, try to get rid of dead rodents either using protective gloves or discarding them together with the rat trap into a plastic bag.
How to Set traditional wood-and-metal Rattraps
First, keep the base flat on the floor and use your hand to put pressure on the end of the wooden rat trap that has the hook attachment. Then, with your other hand, pull the metal spring back until there is enough room for the metal hook attachment to lie over the spring.
Second, keeping pressure on the metal spring with one hand, try to attach the hook lever to the pressure plate on the other side of the trap with the other hand.
Third, place a bit of peanut butter (cracker, dried fruit) as a bait on the curled metal bait pedal.
In addition, you can move the classic wooden rat trap to any place you like, holding it by the sides, without touching the top. Note: the rattraps are strong enough to break the fingers!
Drawbacks of any classic wooden rat trap
First of all, traditional mechanical rat traps from wood are not able to resist stains and odors. As rats are too sensitive to scents, the traps should be discarded after rat catching. Thus, they can't be reused for years of service. Besides, cheap Victor type knock offs do not have such powerful and strong trigger as the licensed Victor rattraps.
Advantages of traditional snap rattraps
The simple and proven construction of a classic wooden rat trap is a very effective solution for rat control. Snap rat traps are designed specially for large rodents, such as the Norway rats, chipmunks and roof rats. The wood-and-metal rat trap captures and kills the critter quickly. Once a rat tries to feed on the bait or, in fact, triggers the pedal, the trap immediately snaps and humanely kills the rat.
Moreover, any classic wooden rat trap does not contain or require poisons and chemicals. Thus, they are safe for use around food and water. Beside, they are made from recyclable materials (wood, metal, paper), which are eco-friendly.