Rats are cannibal mammals. They may eat their weak from illness or trapped colony members. Female rat feed on her dead and sick infants after delivery. Male rat may consume all the babies. Moreover, rodents of any other species are on rat diet as well. For example, the brown rats (Rattus norvegicus) attacked and crowded out the black rats (Rattus rattus) worldwide.
Unfortunately, brown and black rats may attack humans to feed on their blood, skin and meat. From time to time newspapers publish shocking stories of the olds and new-borns that have been bitten by rats to death.
What do rats eat in fields and forests?
Rat diet particularly consist of plants. Their bowel is able to digest cellulose. Besides, they typically eat their droppings to get nutrients. Wild rats consume agricultural-based corns, cereals, wheat, rice, sunflower seeds, vegetable plants in fields. What do rats eat in forests? Birds' eggs, sparrows, slugs, insects, snails, nuts, stems, leaves and plant matter. Rats stalk and kill chickens and ducks on farms. These pests are a real threat to harvest of cocoa, coconuts, oranges, sugar cane and coffee beans. As rodents breed fast, this causes great problems to farmers. Rats do significant damage to the world rural economy.
Rat feed indoors
Brown and black rats look for food in human home. In fact, they are omnivorous and eat almost everything. Bread, butter, cheese, candles, soap, bacon, eggs and even frozen meat in the fridge are in the rat diet.  In fact, they feed on pets' food, human provision, kitchen wastes and garbage.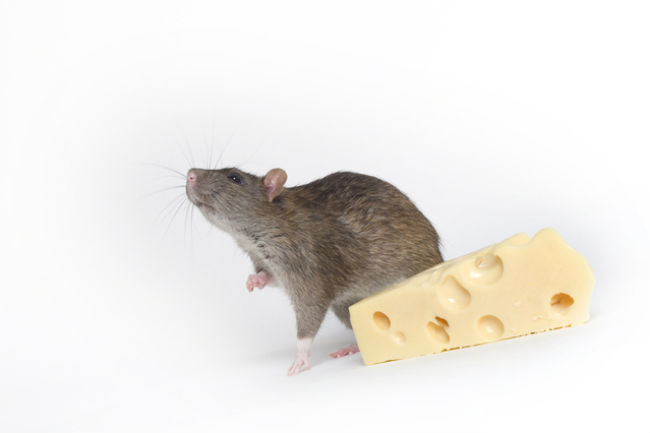 Rats need about 27 lbs of food per year. Though, the loss from a rat feed is much greater. They spoil tons of food supplies with their urina, fecal matter, hair fibres and other wastes. In addition, rats may carry viruses, bacteria, and parasites, and contaminate provision with them.
Damage from urban rat diet
In-building, house rats may settle inside the walls and in the basement. There, they are fond of chewing on everything made of wood, which includes molding, frames, ledges, walls and doors. In fact, hard rats' teeth are constantly growing and they have to chew something permanently for milling them. They may easily gnaw through pipes to get water. Thus, they cause a great damage to water supply, drainage and sewage systems.
Besides, rats are attracted to electrical wires as well. They may pull apart insulation from the walls and ceiling to line their nests. In most cases, this results in short circuit failure and fire accident.
Pet rat diet
Pet rat diet should be balanced, sufficient and high in water content. Domestic rat may eat vegetables and plant materials. Pet rat feed and water should be in its cage regularly. In practice, rats need 1 – 1.4 oz of food per day. You may give them apples, nuts, wheat, greenstuff, carrots, oats, and seeds. In addition, you may feed your rat with fish, insects, meat and milk products. From time to time, treat your pet rat with milksop bread, eggs, slugs, snails and meal worms. As they need to chew something regularly, put bones and hard wood into their cage.