A rat cage trap is a mechanical trap that lures and catches a rodent. It is a tough and strong metal box-shaped construction designed primarily to capture rats and other pest animals without injury. This type of trap is suitable for indoor and outdoor use.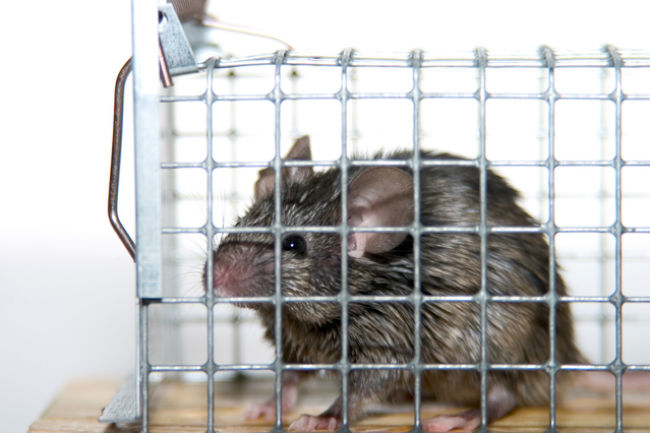 How rat cage trap works
To attract rodents into the cage, you should place some food bait. When a rat enters the live trap and moves toward the nonpoisonous bait, the mechanism triggers and closes a cage door over the entry point. Thus, the trap catches the rat without killing it. Now, you have to decide what to do with the captured rodent next. A rat cage trap has a solid top and carrier handle for easy handling.
How to set live rat traps
A rat cage trap is ready to use, easy to bait and safe to set. Read the instruction carefully and use the cage as directed in the product label.
First, put on protective gloves to avoid leaving a human scent on the bait and cage. Take something for the bait. In practice, it may be a piece of dried fruit, bread, chocolate spread, meat, peanut butter, sunflower seeds, peanuts, muffin.
Place the bait on hook, weighing down the arm to hold the door in the open position. Some constructions have a hook with two ends. Thus, you should bait one end of a hook, and secure the trigger pin with the other.
Finally, place the cage rat trap in the areas infested by the rats. At night, the rodents will enter the cage to take the food, triggering the spring door and trapping itself inside.
Commercially available live rat traps
You may find a great variety of cage traps for rats and rodents on the market. The most popular are: Live animal cage trap by MTL, Collapsible rat trap by Oneclub, Multiple catch live rat trap by Ratinator, Medium animal humane live cage by Atomic Barbie, Live animal cage trap by Havahart, Humane animal live cage by Schome, Iron cage for rodents by Seicosy, Humane rat cage trap live animal catcher by Toogoo, Humane animal live cage by Flywow, Big cheese rat cage trap.
Pros and cons of humane rat traps
On the one hand, cages may catch up to 5 rats at a time. Besides, any live rat trap may capture not only rats, but also other pest rodents and animals, including opossums, mice, raccoons, foxes, moles, stray cats, weasels, rabbits, groundhogs and others. No blood, no mess, no cruel kill or injury. Thus, the caught animals stay safe and alive. Applying a rat cage trap for getting rid of rats is a humane rat control strategy. In fact, cages are safe and non-poisonous for pets and other non-target animals.
On the other hand, you have to deal with the trapped rodents. In practice, you can transport the rat and release elsewhere away from home or subsequently kill. In addition, it is necessary to wash cage traps if necessary and to change the bait regularly.
To conclude, mechanical rat cage trap is available on Amazon, ebay and at home depots. It is an effective, non-toxic and safe method for indoor and outdoor rat control in cities and countryside.