The mosquito is a nectar-feeding insect of family Culicidae. Its role in nature life cycle is obvious. Mosquitoes are flying pollinators. The greater part of them feeds on the plant juice and nectar. Hence, they act the same as butterflies and bees. Futhermore, they are members of a food chain. The aquatic mosquito larvae consume microorganisms. At the same time, they filter the stagnant water in natural bassins. And conversely, the mosquitoes (adults, pupae, eggs and larvae) are food for fish, bats, frogs, spiders, mosquito hawks, birds and other predators.
In practice, only some species of mosquitoes are blood-sucking. These pesky insects live worldwide and annoy humans as their hosts during their mosquito seasons. In fact, only female mosquitoes seek for blood in order to lay eggs successfully.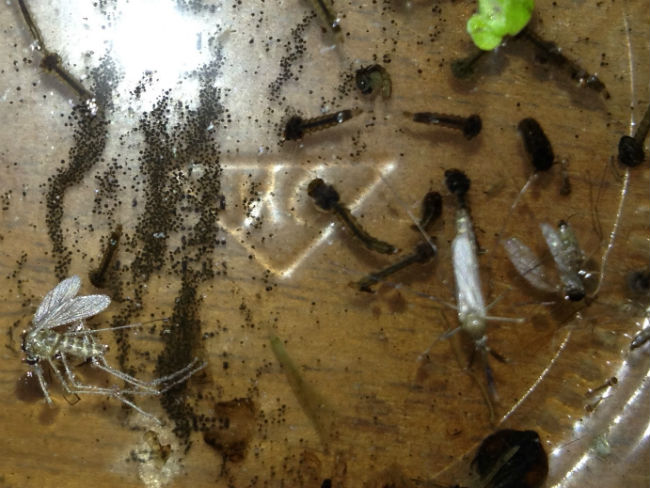 The Mosquito Lifespan
The mosquito life cycle includes four stages. The female mosquitoes lay 50 – 450 eggs per one oviposition in standing water of ponds, lakes, even used tyres and tin cans. They are able to produce from 2 to 5 generations per one mosquito season. Of course, if the ambient conditions of temperature and humidity are sufficient. Then, eggs hatch into warm-like larvae. In some hours or days, larvae turn into pupae, which, in their turn, emerge as adults or imagoes. Adult mosquitoes have wings and they leave their aquatic habitat for a quick coupling.
Male mosquitoes live for about two weeks. However, female mosquitoes live twice longer. When the mosquito dies, it fertilizes the soil.
The Mosquito Mating season
During mating season, male mosquitoes flit around together in large swarms during the dusk time. Female mosquitoes "sense" the swarms and fly into for the only one mating in their life. Then, they store sperm for the next ovifications and ovipositions during their whole life cycle. Before laying the eggs, female mosquitoes may fly several miles in search of a blood host. After feeding, they move to the calm, dark areas. They hide in bushes, greeneries, vegetable stores and basements. There, they are staying and ingesting the blood for some days. Afterwards, they lay eggs into stagnant natural and artificial water reservoirs.
Can Mosquitoes hibernate during Cold Seasons?
Eggs of genus Aedes and fertile females of genera Anopheles and Culex are able to hibernate and withstand low and freezing ambient temperatures. When the air ansd soil tempratures rise, the hibernated eggs hatch out. Besides, the fertile mosquito females "wake up" and fly out. They suck some blood to produce and lay eggs. The mosquito life cycle starts again.
How do Mosquitoes Survive during Droughts?
Moreover, the mosquitoes can survive even during droughts. As mentioned above, the mosquito female flits around for some water reservoir to lay eggs. If there is no source of water nearby, mosquito species of genera Psorophora and some Aedes may oviposit directly onto the ground. The left eggs start to hatch only when they are flooded due to rain or some other reason.
Can Large Mosquitoes bite?
In real life, most species of mosquitoes are small. Though, you are likely to see some large mosquitoes with long legs that bounce around your walls and ceiling at times. This is a crane fly of family Tipulidae. They are about 1-2 inches long and have similar appearance to mosquitoes. However, they are absolutely harmless. They do not bite as they can't even pierce our skin. Moreover, they do not need our blood to survive. Crane flies sponge up flower nectar and dew.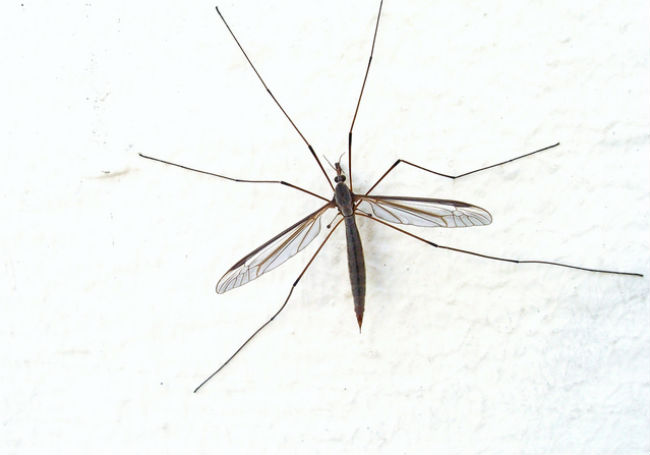 The Mosquito Bite Allergy and Inflammation
The mosquito saliva that is left under the skin can be highly irritating. It may cause a dermal irritation that results in inflammatory process, swelling and itching. There are lots of home remedies to stop mosquito bites from itching. Besides, there is a special treatment of mosquito bites on kids. It differs from the cure for adults.
In most extreme cases, the insect bites may result in allergic reactions: skin rashes, intense itching and redness, heavy breathing. If you have symptoms of mosquito bite allergy or skin infection, that are life threatening, seek medical help immediately!
Blood-sucking Mosquitoes are Vectors of Saliva-borne Diseases
The mosquito that feeds on blood is potentially hazardous. In fact, it can be harmless. Though, if the mosquito first bites a bird that is a natural reservoir of mosquito-borne viruses or a human who is already ill, there is a great chance that next host will be infected. However, only several mosquito genera (Aedes, Anopheles and Culex) are able to transmit fatal diseases among humans. Mosquito-born illnesses are encephalitis, meningitis, Yellow fever, Malaria, West Nile virus, Chikungunya, Dengue fever, Zika virus, filariasis and others.
Mosquito species as vectors of viruses and parasites
Mosquitoes of genus of Aedes transfer fevers (yellow, zika, dengue, chikungunya), human lymphatic filariasis and japanese encephalitis. California salt-marsh mosquito (Aedes squamiger), tropical or yellow-fever mosquito (Aedes aegypti), tiger mosquito (Aedes albopictus) and others often bite early in the morning and before the sunset. They tend to keep their bodies horizontal when blood-feeding. The mosquitoes of Aedes have noticeable black and white markings on their body and legs.
Culex mosquito-borne illnesses are West Nile fever, avian malaria, encephalitis (western equine, St Louis, japanese), filariasis. They keep their bodies horizontal when blood-sucking.
Anopheline mosquitoes (also known as malaria mosquitoes) transmit malaria fevers. Mosquitoes of Anopheles tend to sit with their heads low and their rear ends raised high when blood-feeding. They can be also distinguished by spotted wings.
To prevent saliva-born diseases, protect yourself from mosquito bites and avoid travelling to infected regions.