Most conventional anti mosquito repellents include chemical ingredients that may affect health. Nowadays, researchers develop a natural way of bite prevention currently based on applications of essential oils extracted from plants for mosquito control. These extracts should demonstrate promising insect repellent activity. Thus, they could be developed commercially as an effective personal protection measure against mosquito bites and to control saliva-borne diseases. Active ingredients from oils to repel mosquitoes have shown promise for further development into formulations. In addition, these bio-deterrents may serve as alternatives to DEET, pyrethroids, dialkyl phthalates and PMD synthetic mosquito repellents.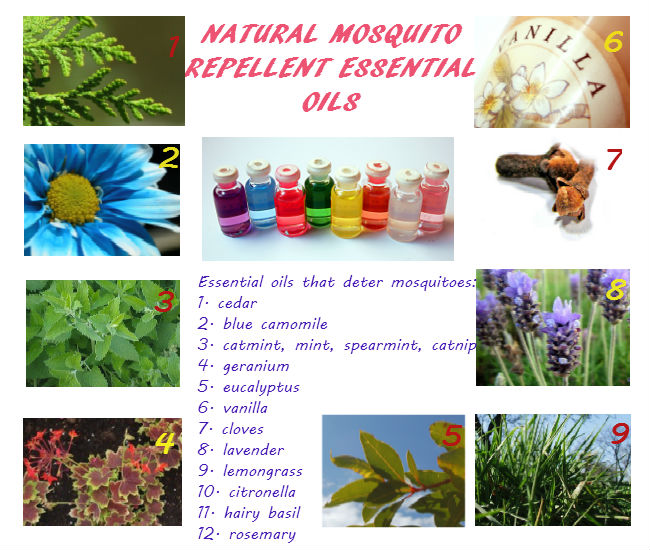 Plants for mosquito control indoors and outdoors
Numerous plants with insect repelling properties are native to the mosquito-affected regions. In most countries, some native plant species have a history of use for personal protection against blood-sucking insects.
In addition, a search on mosquito deterrent inventions containing plant-derived essential oils (EOs) revealed 144 active patents mostly from Asia. Chinese, Japanese and Korean language patents and those of India (in English) accounted for roughly 3/4 of all patents. In general, these patents describe repellent compositions that contain camphor, cinnamon, clove, geranium, lavender, lemon, lemongrass and peppermint. They are designed for use in topical gels and creams, indoor and outdoor sprays, cosmetic products, incense, or fumigants. 1
In fact, plants for mosquito control contain such active ingredients as geraniol, OLE (oil of lemon eucalyptus), limonene, pyrethrin, citronellol, citronellal, vaillin and nepetalactone. These pure natural chemicals affect nervous systems of insects, make them die on contact and deter pesky insects. Bio-repellents create an invisible barrier against pests. Mosquitoes are unable to detect their host as they do not feel his sweat and released chemicals.
Thus, mosquitoes do not like the fragrance of certain aromatic herbs, such as Citronella, Camphor, Cinnamon, Clove, Lavender, Blue camomile, Lemongrass, Geranium, Catnip, Lemon, Eucalyptus, Vanilla, Cedar wood, Rosemary, Elder, Basil, Tansy, Wormwood, Rue, Garlic, Tomato and Mint.
Citronellol, citronellal and geraniol oils to repel mosquitoes
Citronella (or Cymbopogon Nardus) is an Asian grass. Citronella leaves contain active ingredients of citronellol, citronellal and geraniol. These aromatic oils make it impossible for mosquitoes to smell their hosts out.
Citronella grass is grown as a renascent border plant in U.S. Department of Agriculture plant hardiness zones 10 through 12 and as an annual in regions with cooler climates.
Based on a meta-analysis of studies using the cage method, protection time of the citronella oil for preventing Aedes mosquitoes was less than that in the DEET group, with a difference in protection time of 253 min (95% confidence interval: 169-336). The combination of citronella oil and vanillin is likely to have a longer protection time compared with citronella oil alone. In studies using the room method, citronella oil and/or the combination of citronella oil and vanillin provided complete repellency at least 3 h. In Anopheles and Culex mosquitoes, a combination of citronella oil and vanillin product demonstrated a comparable protection time against DEET; however, it remained inconclusive due to a limited number of studies. Of course, citronella products are less effective than DEET products due to duration of protection. Adding vanillin to citronella oil products prolongs the protection time.
2
How to use citronella oil for homemade candles read here.
Geranium flowering against indoor mosquitoes
Cena Geranium is a perennial plant. Homeowners plant them mostly in pots and containers on window sills and in patios. The scent of geranium flowering keeps mosquitoes away from entering your home. Besides, it makes air clean and the surrounding environment healthy in your appartment.
Mint family plants for mosquito control
Catmint, Catnip, Peppermint, Spearmint essential oils are used in mosquito repellent blends. Catnip (or Nepeta cataria) is a perennial plant, which contains an active ingredient of nepetalactone. In fact, Catnip oil is reportedly 10 times more effective for mosquito repelling than DEET products. This mint plant is grown in USDA zones 3 through 7.
According to a research, the five most effective oils of Litsea (Litsea cubeba), Cajeput (Melaleuca leucadendron), Niaouli (Melaleuca quinquenervia), Violet (Viola odorata), and Catnip (Nepeta cataria), were applied against the yellow fever mosquito (Aedes aegypti), the malaria vector (Anopheles stephensi), and the filariasis and encephalitis vector (Culex quinquefasciatus). These essential oils induced a protection time of 8 hours at the maximum and a 100% repellency against all three mosquito species. 3
Lavender oil to repel mosquitoes
Homeowners use plant-extracted essential oil of lavender for outdoor and indoor pest control. How to use Lavender oil against annoying mosquitoes read here.
Basil herbs make pests flit away
Basil (or Ocimum americanum) is an annual plant. It contains essential oils that deter mosquitoes naturally. Homeowners and gardeners easily grow this herb in pots or containers near their doorways. Moreover, they plant basil in the garden. In practice, sweet and hairy basil plantations not only prevent mosquitoes from entering your home, but also make the surrounding environment healthy.
Besides, you can get some dried lavender flowers, basil and mint leaves and use them in sachet DIY. Put them in a muslin bag or tie them up in a cheesecloth. Then, hang the homemade sachets at home.
Cloves oil as a mosquito deterrent
The scent of clove oil is repellent to most flying insects such as clothes moths, flies and mosquitoes. Moreover, this oil is a home remedy against itchy bites. You may add 20 drops of cloves oil to 2 fl. oz of rubbing alcohol and shake well. Then, drip the solution onto cotton balls and place them on the window sills, headboards, in drawers and wardrobes. For indoor mosquito control, apply this mixture in aroma lamps. This will act as an electric fumigating system.
Pyrethrin-containing oils to repel mosquitoes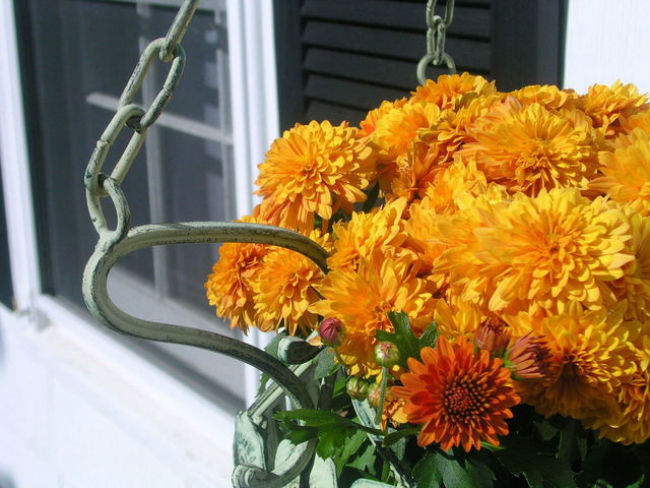 Chrysanthemum (or Dendranthema) is a renascent bedding and border flower. Gardeners grow mums in USDA zones 5 through 10. The flowers of chrysanthemum contain pyrethrin and cinerin. These compounds are highly toxic to insects. Manufactures make a natural insecticide called pyrethrum using esters of chrysanthemumic acid. Liquid for electric misting systems contain this active ingredient as well.
Moreover, Persian pyrethrum, Blue camomile and Tansy are effective against mosquitoes as well. Powder from dried bloom, leaves and stems of pyrethrin-containing plants affect insect neurons. Annual bed flowers like Marigold and Ageratum give off a scent that annoys mosquitoes.
Lemon eucalyptus
Lemon eucalyptus is a tree native to Australia. It contains OLE (oil of lemon eucalyptus). This wonderful substance keeps ants, spiders, mosquitoes and flies away. This oil is the most effective among other mosquito repellent oils. In fact, it prolongs the protection against bites for as long as 6 hours. Moreover, its synthetic analogue PMD (p-menthane-3,8-diol) replaces OLE in most commercial anti-mosquito products. Fishing, gardening, hiking, lounging and camping are safe when you treat your clothing and tent with lemon eucalyptus oil. Besides, you may apply pure eucalyptus oil on skin by mixing it with olive oil (1:1), your favorite sunscreen or moisturizing lotion.
How to use oils to repel mosquitoes at home and in yard
Biological mosquito control is the best way to keep mosquitoes away from you and your home. As mosquitoes avoid the scent that tomato tops, basil, garlic, geranium, citronella grass, catmint and catnip, lavender, clove, mint, spearmint, lemon grass release, plant thes herbs and flowers in pots and containers at home and in your backyard.
Besides, for organic outdoor mosquito control, you can use mosquito yard spray diy with essential oils as well. This natural treatment is safe to pets, plants and kids. Outdoor sprays act as a biological barrier, that deters blood-feeding insects, prevents their bites and control mosquito breeding.
Thus, for personal protection, apply homemade topical solutions with essential oils to repel mosquitoes and treat their bites.
In addition, to prevent mosquitoes from entering your home, you may use indoor mosquito control methods. Moreover, you may apply a few drops of essential oils on nets, fiber clothes, ribbons and cotton balls. Then, place or hang them near air vents, windows or other openings where insects are likely to enter. Instead, simply fumigate your rooms using aroma lamps with essential oils to repel mosquitoes.
Notes:
Planta Med. 2011 Apr;77(6):598-617. doi: 10.1055/s-0030-1270723. Epub 2011 Feb 15. Patent literature on mosquito repellent inventions which contain plant essential oils – a review. Pohlit AM, Lopes NP, Gama RA, Tadei WP, Neto VF. ↩
Kongkaew C, Sakunrag I, Chaiyakunapruk N, Tawatsin A. Effectiveness of citronella preparations in preventing mosquito bites: systematic review of controlled laboratory experimental studies.Trop Med Int Health. 2011 Jul 2011 ↩
Parasitol Res. 2006 Sep;99(4):478-90. Epub 2006 Apr 27. Repellency effect of forty-one essential oils against Aedes, Anopheles, and Culex mosquitoes. Amer A1, Mehlhorn H. ↩