If there are so many mosquitoes where you live (especially when you are surrounded by wetlands) that you are really eaten alive, try making mosquito citronella candles diy for spending warm, windless calm nights on your patio or deck, in the alcove or in the backyard without these pesky biting insects.
What you need for mosquito citronella candles diy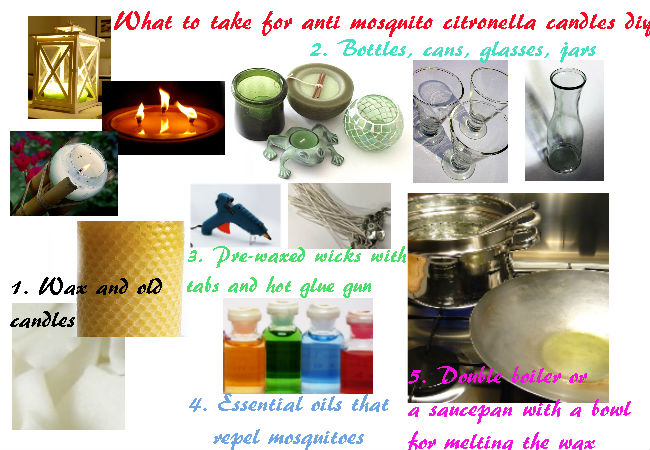 For homemade citronella candles with essential oils you will require:
1. containers (tin cans, small bottles, old candle jars made of glass and plastic, Mason jars and smth like that);

2. pre-waxed six-inch wicks with tabs and hot glue gun to affix the wicks to the bottom of containers;

3. wax (you can use old candles, soy or paraffin wax, cheap new candles).
Take 1 lb of wax per 1.5 cans. In fact, you can use scented candles if the scent isn't so strong to overpower the citronella or isn't so magnetic to actually attract mosquitoes;
4. 100% essential oils for mosquito citronella candles diy
Use 1 oz of pure citronella essential oil per 1 lb of wax. Moreover, you can add other scents for candle making to cut the citronella smell a bit as it can be unpleasant to somebody (essential oils of cedar wood, pine, catmint, lemongrass, mandarin orange, lemon eucalyptus, peppermint, basil deter mosquitoes as well);
5. a saucepan with warm water covered with a bowl with small pieces of wax to melt on a low heat;

or a double boiler.
How to make your own natural mosquito repellent candles
1. Affix the wicks (6″/150 mm) to the bottom of the bottes and cans, using the melted candle wax or hot glue gun. Press them firmly into the center. If you use a larger bottle or jar, you can add some more wicks (2-4) spaced apart around the center.
2. Pour 1/3 water into a saucepan, put it on low heat and top with a bowl. Break candle wax into small parts and put them into the bowl. Heat the candle wax over low heat until it is completely melted. Stir the wax regularly.
You can use a double boiler for melting either. Assemble the boiler. Then, cut old candles or wax in small pieces and place into the double boiler. Don't pay much attention to bits of wick or other specks in the wax as they won't be seen in the cooled candles. Heat the candle wax over medium heat until melted.
3. Add to the melted candle wax 1 oz of citronella oil per one pound of wax. If you want to improve the scent, add 0.5 oz of other essential oils per pound. Then, stir the wax properly.
4. Put the wax aside to cool slightly. Then, carefully pour the candle wax into containers. In addition, be sure the wicks to stay in the centre as the wax is cooling.
5. Don't disturb the homemade mosquito citronella candles too much and set them in a warm place to cool. If the melted wax is cooling slowly and completely, it will create the perfect candles.
Precautions
Heat the candle wax, don't boil!
Moreover, let your candles to set and cure for 2 days undisturbed before burning.
If you spill the melted wax on a carpet, don't worry. Take a brown paper bag and a warm iron. Cover the spilt wax with the bag. Then, iron changing bags until wax is absorbed.
How to use homemade mosquito repellent candles
When you light the homemade mosquito citronella candles up, let them burn so that there is a full, wide pool of wax before you blow them out. In fact, it is required as candles have a memory and they will burn better in this case.
If you want, you can decorate your mosquito repellent candles with handmade. Thus, wrap them in burlap, ribbon, yarn, band or twine. In addition, paint them or stick some sparkles.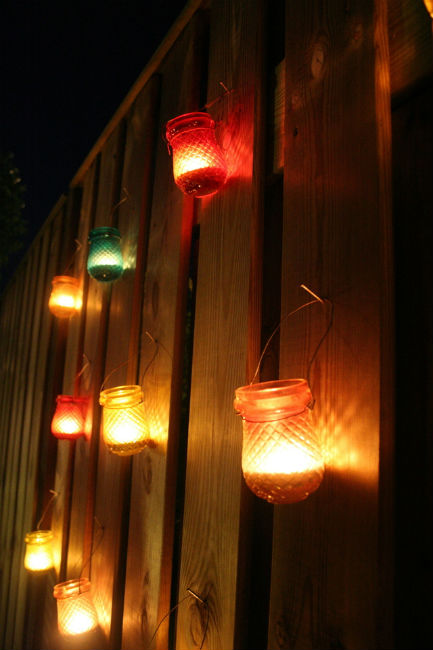 Keep mosquito citronella candles near the backyard, garden, alcove or patio so you can light them up when the biting insects start buzzing around. Besides, you may use candles with lavender as well.