You are going to host an outdoor bbq or to give a party (wedding, birthday) on your patio, deck or in garden, why not? Your backyard may be perfect enough for that. Though, it is necessary to protect your yard from mosquitoes, flies, wasps and other pests. These "unbidden guests" may turn any party into a real nightmare. Garden mosquito control is the best solution in this case.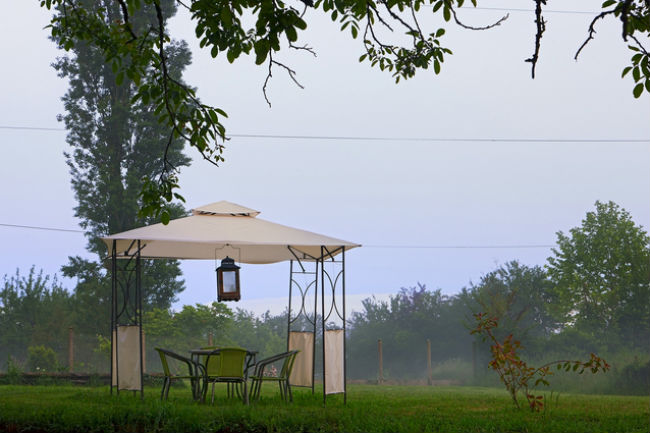 STEP ONE: Say "No" to litter and dropped food
First, always keep your yard, patio, deck and garden clean. Don't store any trash nearby. Tins, jars, barrels and butts that accumulate rain water may serve as breeding grounds for mosquitoes. Thus, keep all containers tightly closed. Sweet smell of dropped food will attract bees, wasps and flies.
STEP TWO: Dryer sheets keep your festive table clean
Second, clean the surfaces of your patio furniture with Bounce dryer sheets. This will prevent the insects from landing. Besides, the smell of these sheets keeps rodents (mice and rats) away.
STEP THREE: Garden mosquito control with repellent sprays
Third, try to make your garden, patio or backyard repellent to mosquitoes. On the one hand, you may grow plants that deter insects in pots, flower-beds and as a hedge. Moreover, some flowers in vases on your festive table will certainly help keep annoying pests away. The most common plants for garden mosquito control are citronella, garlic, lemongrass, eucalyptus, tomato, mint, cedar, geranium, lavender, mum, and tansy.
On the other hand, you may treat your lawns and garden furniture with homemade repellent sprays for yards. Their application is safe to humans, though unbearable to blood-sucking insects. Hydrogen peroxide is a real home remedy not only from scratches and bites, but also from mosquitoes themselves. Thus, add one part of hydrogen peroxide into two parts of water. Then, shake to mix the solution properly. Spray the mixture on to the surface of your deck, patio or porch. Besides, treat the grass in your garden and on the lawn.
STEP FOUR: Use nets for patio umbrellas, pavilions and tents
Fourth, you may use nets to protect your festive table and surroundings from mosquitoes. You may give your party in a pavilion or under a tent covered by mesh. Instead, you can use common sun umbrellas with special patio umbrella nets.
STEP FIVE: Outdoor lightning with candles and aroma lamps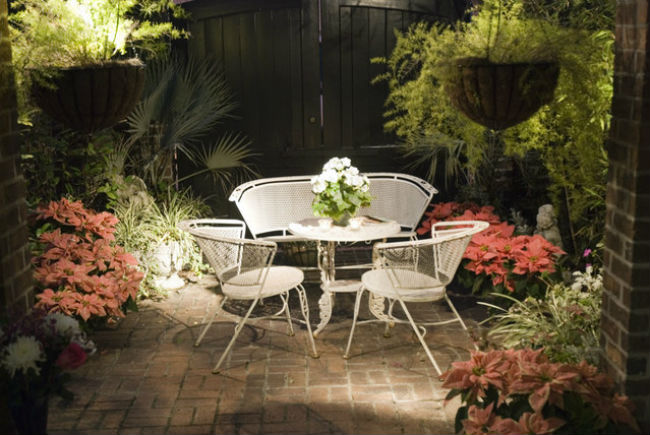 Fifth, change your outdoor lightning. In practice, white light of the bulbs magnet swarming insects in the dark. Hence, you should use sodium-vapour or yellow light bulbs.
Moreover, you may switch the lights out, and light homemade mosquito repellent candles up. Painted and wrapped in ribbons, burlap, and bands, these candles will be a nice decoration of the party. Simply put mosquito repellent candles into mason jars, lanterns and small decorative buckets. Then, hang them on the fence, walls or just put on the table.
STEP SIX: Fume the garden with coils, oils and coffee grounds
At last, you may light mosquito coils and aroma lamps up when the biting insects start buzzing around. Some drops of essential oils of lavender, tansy, citronella, basil, catnip and mint will deter mosquitoes and flies.
If you are going to build a fire, you may burn some cedar or juniper branches for repellent fume.
Besides, don't throw away coffee grounds, you may burn them outdoors. The scent of coffee annoys the flying insects.
Well, we hope that our recommendations will be useful for you. Be sure your outdoor party and barbecue will be unforgettable and free from buzzing insects!