The Norway and roof rats are wild creatures that tend to make their way to our homes in search of a meal. They don't only steal and spoil our foodstuff, but also they carry diseases and dirt indoors, damage vehicles, pipes, insulation, wires, building constructions and furniture. Homeowners use various mechanical devices, electric zappers and chemical methods for the rat extermination. Application of a wood, plastic or metal snap rat trap is a traditional option.
The  well-known metal rat snap traps are Trapro metal rat trap, PTCLTRAPS metal rat trap, Generic reusable metal rat mouse trap, Catch it! humane metal rattrap, Grandpa Gus's rat snap trap, Vectortrap metal snap rattrap and Made2catch Classic Metal Rat Trap. In fact, they are widely available on Amazon, eBay, or at the nearest housewares or home depots.
Metal Rat Trap – Durable Reusable Design – Snap Trap for Rats (5 Traps)
made2catch Classic Metal Rat Trap 4 pack – Durable Reusable Design – Snap Trap for Rats – Fully Galvanized
Trapro Metal Rat Trap Snap Trap for Rats and Other Large Rodents (Pack of 4)
These traps resemble classic snap traps, though, made fully of metal. They have a simple proven heavy metal construction with a powerful trigger mechanism. They can catch and kill rats and other bigger rodents.
Metal snap rat trap: construction
Some models of rattraps have a design with sharp teeth on platform that are intended to avoid escape of the caught rat from the trap. There are holes in platform that make it possible to nail or screw the trap to a solid base in order not to let the rat escape with the trap in cases when the captured by leg or tail rodent stays alive and can move.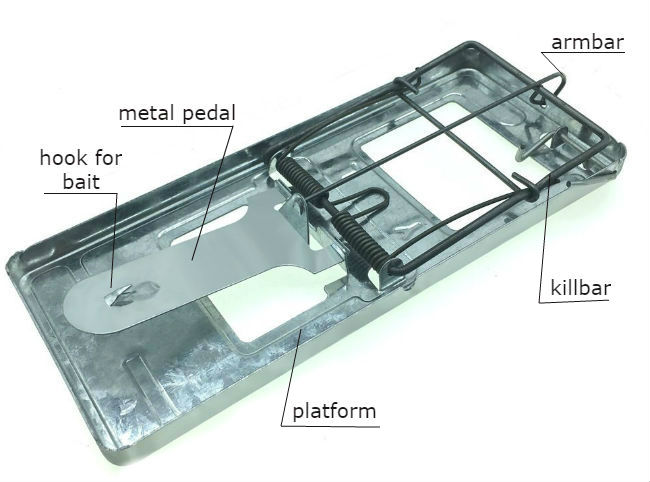 When a rat touches the feed tray, the trigger releases the rod that springs the kill bar. Once a rat triggers the pedal, the trap immediately snaps and humanely kills the rat. Classic metal snap rat traps are durable and reusable. You can wash them to avoid leaving odors and blood. Moreover, a mechanical rat trap with metal pedal is non-toxic and can be baited with food that attracts rodents. Thus, it is safe for use around food and water.
Metal snap trap: setup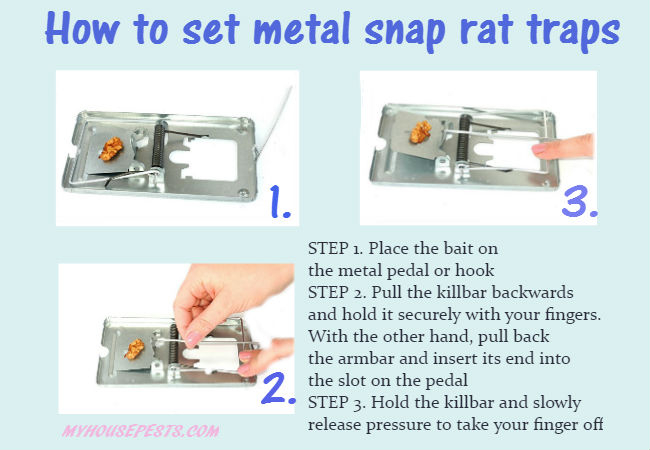 Modern metal snap rat traps are easy to bait and to set fast and safe. We recommend to use protective or disposable gloves. To start with, place the bait (such as bacon, meat, fruit, peanut butter, chocolate, hazelnut spread) on the metal pedal of disabled trap. You may use a toothpick, Q-tip or another tool to mask the human scent. Then, place the armbar or bow rod away from the trap.
Then, carefully pull back the kill bar and hold it securely with your fingers. With the other hand, place the armbar over the kill bar. Then lift the metal pedal slightly and insert the bent end of the bow rod into the slot on the metal pedal. Slowly releasing pressure from the kill bar, take your fingers off. Trigger sensitivity depends on the depth of the bow rod insertion into the slot.
Never put fingers in the bait pedal of the activated trap to avoid accidental injury. Place the traps against the walls in areas of high rat infestation. After the rat is trapped, get rid of the dead critter by lifting it off the kill bar.
Benefits of metal snap rat trap
To compare with the traditional wooden traps, metal ones don't absorb blood and odors. They are washable and reusable. The toothed edge of the platform prevents rat escape if they are not immediately killed. Unlike plastic traps, metal traps are UV radiation resistant, sturdy and durable, they don't break easily. Moreover, there is no risk of poisoning non-target animals and children as the bait on the metal pedal is not chemical.
Metal snap rat trap is an efficient and reliable method of eradication. It is sensitive enough to snap immediately. The only thing that you should do is to dispose of the dead rat and load the trap again. If you have a severe rat problem, it is better to hire a professional pest control company to deal with your infestation.