Conventional metal, plastic or wooden mechanical rat trap is a device for non-chemical rat eradication. The simple mechanism of snap traps resembles a locking of teeth or animal chaps. However, there are more humane cage traps that catch rodents without bringing them any harm.
Types of mechanical snap rattraps
In fact, most commercially available rat traps lure a critter and then snap it at once. If the device works successfully, the caught rat or mouse dies immediately from a serious skull damage.
However, the great disadvantage of mechanical rat traps is that they may have either more quick or less sensitive trigger that is activated by the contact. If they catch the rat someplace other than the head or neck, the rodent may not die instantly. Thus, treatment with the use of different snap rattraps ends up either with nothing or catch the pest that still stays alive. Of course, there are no traps that will work perfectly every time in every situation.
Classic wooden mechanical rat trap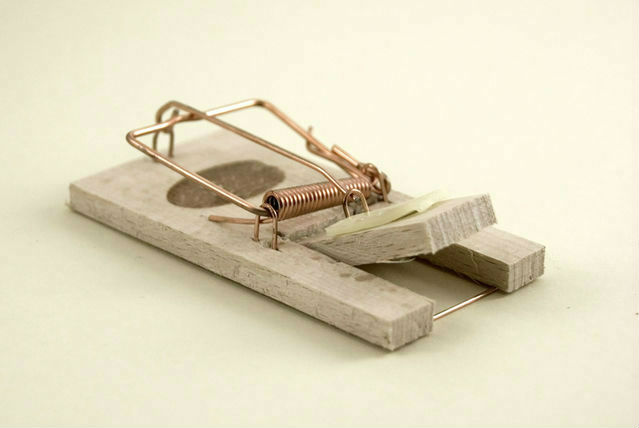 Traditional snap trap from wood with a metal spring is a well-known invention that helps exterminate rodents a great while. They should be set and used carefully as the wood-and-metal traps may be harmful to kids and non-target animals or birds.
They are sensitive enough to snap immediately. Thus, always unset and take away the mechanical rat traps in the morning to avoid accidental damage of non-target creatures and humans.
You can find more information about advantages and drawbacks of traditional wood-based wire snap rat traps here.
Modern spring-loaded rat traps
Present-day mechanical rat trap is made of durable polystyrene and stainless steel. It is a modification of well-known wooden snap rat traps.  It is easy to bait, to set and to clear off such modern spring-loaded rat traps. They snap fast and effectively to catch all types of small pest rodents such as chipmunks, mice, voles, Norway rats, pack rats, roof rats and others.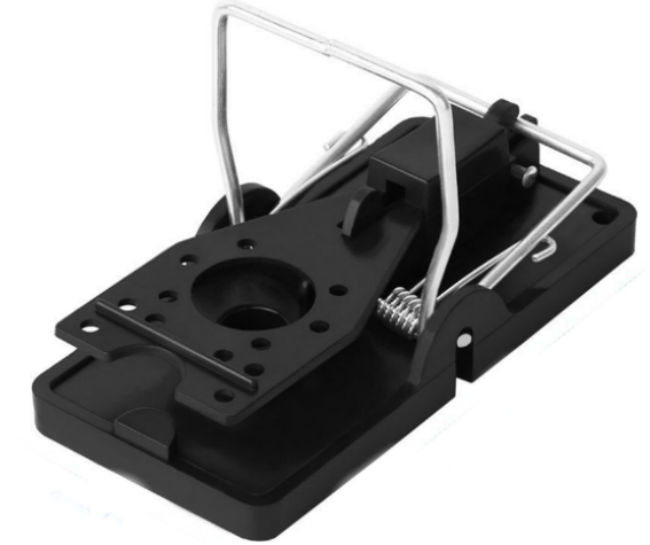 The great advantage is that the plastic-and-steel mechanical rat traps can resist stains and odors common in old-fashioned wooden spring-loaded traps. They can be washed and reused for years of service until the trigger or spring gets worn out. Moreover, the vertical strike bar travels half the distance of the traditional snap traps. The extra large trip paddle and strike bar catch pest rodents from the front, back and sides.
On the other hand, the up-to-date spring-loaded traps are not as sensitive as the standard wooden rat traps produced by current manufacturers. Thus, a small rat can eat the food from the bait cup without springing the trap. However, you can bait the mechanical rat trap again and catch the rat the second or third time around.
Classic metal pedal snap rat traps
The most popular snap traps with metal pedals are Victor Metal Pedal Rat Trap and Made2catch Classic Metal Rat Trap. These traps have simple proven construction with a powerful trigger mechanism. When a rat touches the feed tray, the trigger releases the rod that springs the kill bar. You can apply metal pedal traps for rats and other bigger rodents like chipmunks.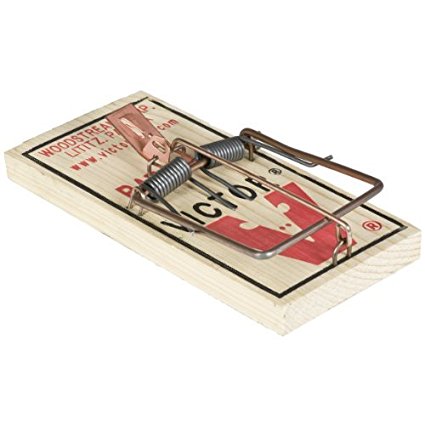 Once a rat triggers the pedal, the trap immediately snaps and humanely kills the rat. Classic metal snap rat traps are durable and reusable. You can wash them to avoid leaving odors and blood. Moreover, a mechanical rat trap with metal pedal is non-toxic and can be baited with food that attracts rodents. Thus, it is safe for use around food and water.
Metal rat snap trap
This type of a snap rat trap is made of galvanized metal to ensure durability and power. It has an extra strong spring design for capturing and killing rats and other pest rodents. It is highly sensitive and once the pedal touched, the trap will be triggered and snap the rat immediately. Safety switch protects your fingers from accidental injury when baiting and setting the metal snap trap.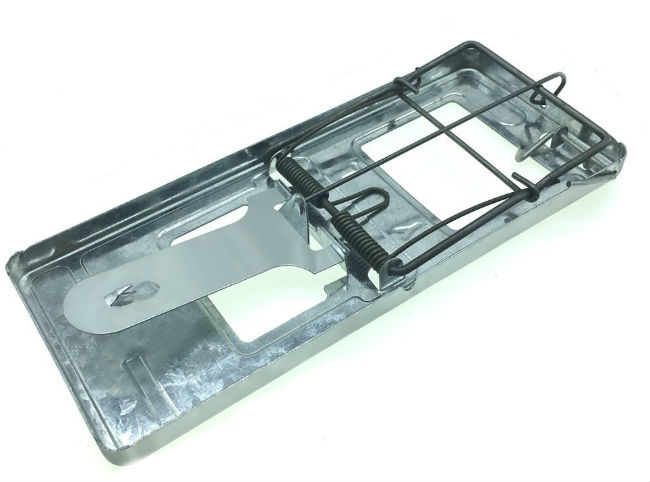 If you have ever used a classic wooden rattrap, you know that they aren't able to catch any more rodents after several times of use. The main reason is that the rats are sensitive to the smell left by the caught rodents. The odors and blood spots are difficult to clean off. The metal rattrap, on the contrary, is washable and it is much more easy to clean completely.
You should place the heavy metal rat snap trap in the rat-infested areas non-accessible to kids and pets.
Polystyrene mechanical rat trap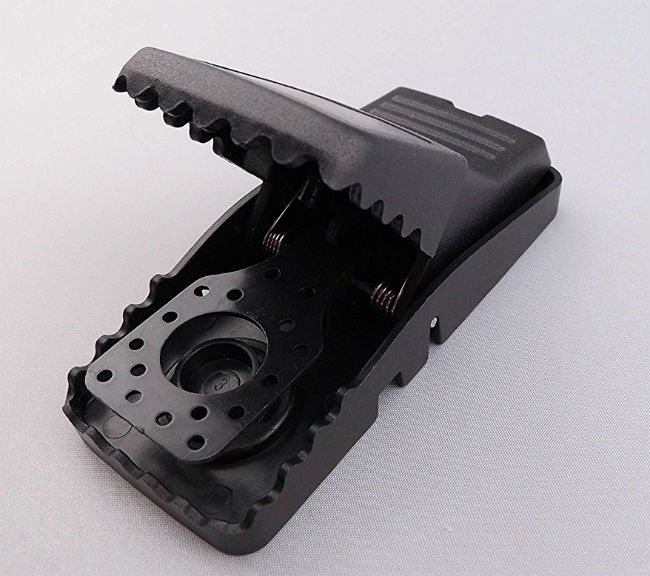 Plastic snap traps are easy to set in one motion with a hand or foot. Patented interlocking teeth compress the caught rodent to death. You may wash and re-bait the trap using the removable bait cup. Polystyrene mechanical traps are effective and preferable for killing the occasional rat or as part of a more extensive rat control program.
They can be placed both indoors and out in the areas where rodents feed, live and breed. They are applied in holes and tunels, in corners and crawlspaces, along baseboards and walls.
More information about polesterene rat snap traps find here.
Humane mechanical cage trap for rats and mice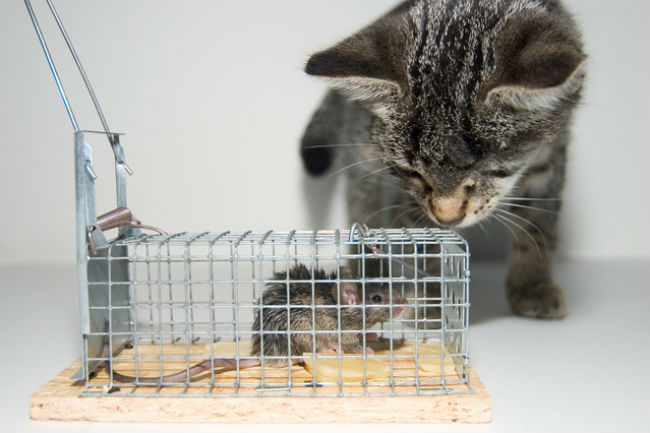 Humane live cages are mechanical rat traps that resemble common pet-cages. However, they are constructed of sturdy rust-resistant wire mesh with steel reinforcements for durability and galvanized for maximum resistance to corrosion. Mesh openings are small enough to prevent escapes and stolen bait. Moreover, the cage traps are equipped with spring loaded doors and sensitive triggers.
The left food (peanut butter, fruit, sunflower seeds) lures the rat in. Then, the spring loaded door doesn't allow the caught pest out. There is enough space to accommodate several rodents in the cage.
The great advantage of live cage rattraps is that they may catch several rats at a time. Don't forget to change the bait regularly. Fresh bait attracts the rodents faster. Moreover, this cage may capture not only rats, but also other pest animals, such as, mice, opossums, raccoons, moles, stray cats, foxes, weasels, groundhogs, rabbits and others. Live cage traps are humane, they are safe and non-toxic to other animals and humans. The only drawback is that you should decide where and how to get rid of the pest rodent.
To sum up, any type of mechanical rat trap is available nowadays. They are ideal devices for indoor rat control in urban and rural areas. Modern rat traps are effective against the pest rodents and safe to humans and pets. It is only for you to decide what trap to choose: a quick killer trap or a live cage trap.