Mosquito born illnesses can be divided into three large groups: febrile, parasitic and encephalitic. The most common fevers are west Nile virus, Chikungunya, yellow fever, malaria, dengue, Zika virus. Diseases are spread via mosquito bites of female mosquitoes. Infected patients suffer from common febrile syptoms, such as mild or high fever, rash on skin, red eyes, headaches, body and muscle pain. In the most severe cases, fever can bring diseased to severe seizures, coma or even death. Mild fever viruses are deceitful and latent. They result in complications. The Zika virus is linked with pregnant women's fetal malformations and miscarriage, microcephaly of newly born babies and auto-immune paralytic Guillain-Barré syndrome of adults. Mosquito control methods can be divided into:
 outdoor mosquito control methods
 indoor mosquito control methods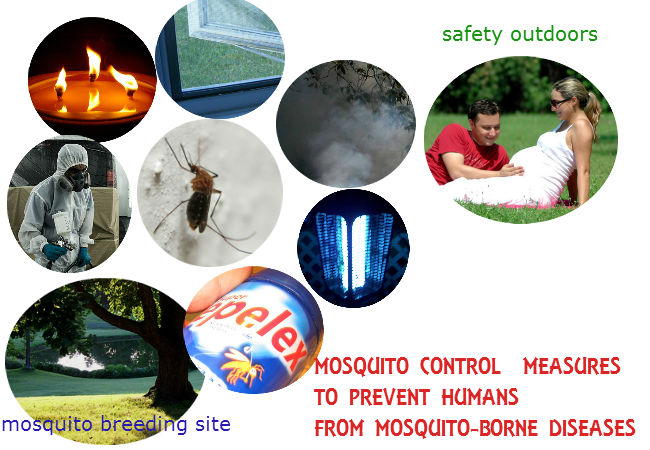 The main objective of mosquito control methods in and outside the house is to minimize contacts of mosquitoes with humans. In other words, it is required to repel blood-sucking insects from bites and to reduce mosquito population.
Mosquito control outdoors
After a steady outbreaks in Aedes mosquito borne illnesses among the countries of the Amazon Basin region, the Centre for Disease Control and Prevention (CDC) developed appropriate policies for treatment of diseases. In 2001 CDC launched the Amazon Malaria Initiative. The Centre provides technical assistance and capacity development for monitoring antimalarial drug resistance and insecticide resistance.
Ways to prevent mosquito breeding sites outdoors
Mosquitoes, causing mosquito-borne diseases, pose a threat to human life and health. Prevention of increase in mosquito breeding sites  and control of density in Culicidae population result in reducing blood-feeding females.  The CDC recommends and develops two strategies for mosquito control methods in localities:
through removal and modification of breeding sites
through reducing contact between mosquitoes and people.
Mosquito control methods for source reduction are connected with eliminating still water outside buildings and marshland reclamation in the locality. Inspect regularly and repair septic tanks. It is necessary to empty, clean or cover containers that are intended to store water, such as buckets, pots, drums and vessels. Other sites for mosquito breeding (used tyres, tin cans, garden watering-cans, leaky buckets and old flower pots, roof gutters) outdoors, which accumulate water after rains and run-offs, must be cleaned and/ or removed.
Local authorities are recommended by the WHO Pesticide Evaluation Scheme to spray insecticides and larvicides over large bassins of stagnant water and other water containers in their locality in order to get rid of blood-eating female mosquitoes and larva. Insecticide fumigation by professional pest control services is the best way to kill mosquitos outdoors: in yards, forests and shrubby areas.
Mosquito barriers
Insect light killers or zappers are currently available outdoor mosquito control methods to get rid of blood-sucking pests on contact. Ultrasonic mosquito repellers and coils are used to deter blood-suckers and to prevent bites.
For repellent treatment of grassy yards, gulf courses, town parks, athletic fields and tennis lawns, mosquito barriers with non-organic and organic ingredients are applied. Permethrin in "Mosquito and Gnat Barrier", essential oils of garlic in "Mosquito Barrier" and of soyabean in "PLP Natural Products" , "Patrol Barrier Spray" are the most popular and effective to kill mosquitoes on contact and to prevent them from entering the home.
Natural mosquito barrier products can be mixed with canola oil and water to coat standing water. A thin film of essential oil kills the larvae that develop in the water.
Barrier anti-mosquito spray exterminates and repels blood-sucking insects for up to a month. Products must be applied outside to treat lawns, shrubby areas and trees surrounding houses. Treat surfaces around light fixtures on porches or other places of the patio, where mosquitoes may land or congregate as well.
What to do for personal protection against mosquito bites outside
The US, Canada and EU health agencies have issued warnings asking travellers and pregnant women delay or not to travel to countries in the South and Central Americas, Africa, Asia and others, which have registered cases of mosquito borne diseases of dengue Zika, malaria, yellow fever and others.
If humans can't avoid travelling to infected regions, CDC travel experts advise tourists to follow their recommendations to protect themselves and their family members from  mosquito-borne viruses. In the case of Zika disease, women should avoid pregnancy and practice protected sex with condoms for 6 months after travelling or being infected by the fever.
In fact, travellers and locals must cover as much of the exposed skin as possible, putting on repellent-treated hats, closed shoes with socks, long-sleeved shirts and long pants. Moreover, it is better to choose clothes of light colours. Be sure the clothes are not very tight: the looser shirts and trousers are, the better they prevent mosquito bites.
Vaccination against mosquito-borne diseases
There are vaccines against yellow fever and japanese encephalitis, preventive medication against malaria. Though, there are no preventive drugs and vaccine against ZIKV. A new genetically engineered vaccine for Dengue (manufactured by Sanofi, France) has been approved in three countries, including Brazil, but it is not commercially available nowadays. 1
Repellents for mosquito control outdoors
To prevent virus-causing mosquito bites outdoors, individuals can use anti-mosquito lotion, spray, gel, cream on skin surface and mosquito repellent spray on top clothing. Chemical products against mosquitoes contain active ingredients of:
IR3535 (3-[N-acetyl-N-butyl]-aminopropionic acid ethyl ester)

picaridin and icaridin (1-piperidinecarboxylic acid, 2-(2-hydroxyethyl)-1-methylpropylester) ,

permethrin (3-Phenoxybenzyl 3-(2,2-dichlorovinyl)-2,2-dimethylcyclopropanecarboxylate)

DEET (N, N-diethyl-3-methylbenzamide).
Natural anti-mosquito repellents are based on extracted essential oils of citronella, lemon eucalyptus, hairy basil and others. These products exist in various formulations against mosquitoes: sprays, roll-on gels, lotions, creams, even mosquito repellent hangers, peel-stick patches and hand bracelets.
Mosquito repellent products are possible to use together with sunscreen formulations. It is recommended to apply sunscreen first and let it dry, then use insect repellent.
These repellents are effective when used on intact skin and clothing as directed in the product label. Reapplication of insecticides is necessary as well.
Mosquito deterrents for kids and pregnants
Not all anti-mosquito products are intended for applying on children and pregnant women. Avoid applying repellent to child's hands, mouth, eyes. Use the mosquito repellent product in accordance with the directions in the product/ package label when applying it on babies' skin. In fact, use of zappers, peel-sticks, anti-mosquito hangers are preferable. Avoid ultrasonic mosquito repellers and apps as they may annoy kids and pets, and may reduce their hearing.
After returning home, wash repellent-treated skin with soap and water or take a shower. Wash treated clothing before wearing it again. Treat your clothing with anti-mosquito products again after laundry.
Mosquito control methods during their activity hours
Most mosquito species are crepuscular  feeders. It means they are active in darkness, at night (at dawn and dusk) from late spring to early autumn. In practice, the ambient temperature of soil and water for the eggs to start hatch is sufficient from April. The peak activity of mosquito mating and breeding is in May – June. During the warm or even hot daytime, mosquitoes hide in cool shrubby places and wait for the evenings. Though, if disturbed, they can bite. Species of Aedes, also known as the Asian tiger mosquito, is the only mosquito genus that is active during the daytime: in the morning after the sun rise and in the evening before the sun set.
However, habits of various mosquito species differ. Some genera prefer to attack people in houses, and others choose to bite people walking in forests. On the one hand, Zika, Dengue, chikungunaya and yellow fever vector mosquitoes bite mainly from dawn to dusk. On the other, West Nile fever, Japanese encephalitis and Malaria vector mosquitoes bite mainly from dusk to dawn.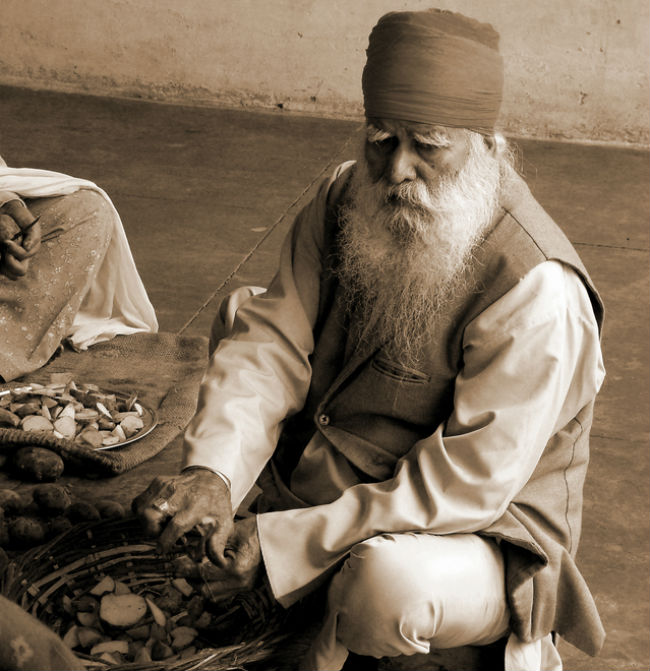 How to protect yourself while gardening, hiking and bbq outdoors
If you must be outdoors when mosquitoes are active, wear loose, long-sleeved shirts and long pants of light colour. Then, aviod being in shrubby areas and near stagnant water as mosquitoes are thicker there. Moreover, remember to apply repellent regularly. You can use not only skin repellent formulations, but also insect zappers, ultrasonic repellents and patches, and mosquito coils as effective outdoor mosquito control methods.
Field and forest mosquitoes of genus Aedes that transmit Zika virus are active after dawn and before dusk, so the best way to prevent Zika virus mosquito bites is to stay indoors around dawn and dusk. However, it is impractical, I'm sure. You will require some other outdoor mosquito control methods.
Female mosquitoes seek their hosts by detecting sweat of organic substances including CO2 (carbon dioxide) and 1-octen-3-ol emitted by vertebrates. It is curious that mosquitoes prefer some people over others. The preferred host's sweat smells better than others because of the proportions of the carbon dioxide, octenol and other compounds that make up body odor.
Food preferences as a method of mosquito control
Scientists noticed that those, who consume garlic and less sugary drinks and products, repel blood-sucking insects. Those, who eat lots of sweats and fruit, especially pineapples and bananas, ae irresistible to female mosquitoes. There were detected 6 groups of human hosts very attractive to mosquitoes  2:
1.  humans with high concentrations of steroids or cholesterol on skin;
2. humans with excess amounts of uric acid;
3. humans with O blood type (the most common I (O) blood group; the highest percentage of population with O-blood is in Central and South America);
4. humans who drink beer regularly;
5. humans who emit more carbon dioxide (it is common for pregnant women and those with overweight);
6. humans who move and exercise a lot, as activity increases heat, sweat, lactic acid – all factors that are magnetic to mosquitoes.
Thus, you can change your food preferences, as one of mosquito control methods. Consume less beer, sweats, fruit and sugar, before being outdoors in order to reduce chances to be bitten by mosquitoes.
Gene engineering technologies for mosquito control methods
Development of gene modified mosquitoes and virus mobile tracking is novel in mosquito control methods. Use of cell phones to record the movements of their owners in order to track disease hot spots and predict where they are likely to occur next. The technique has already been employed in the battle against two flaviviruses, such as malaria in Africa and dengue fever in Pakistan. Male mosquitoes have already been genetically modified to cause local populations to crash.
Successful tests in the Cayman Islands and Brazil have shown that the introduction of modified insects result in elimination of local populations. But these tests have been conducted by the British firm Oxitec on the scale of a few limited areas of their locality. This newly developed technology of gene drive is intended for inserting genes into an organism in such a way that a trait spreads throughout a whole population.
In theory, a gene drive is likely to prevent mosquitoes from incubating mosquito-borne illnesses, or to destroy the entire mosquito species. Beside, a gene drive has already been inserted to prevent mosquitoes from harboring the malaria parasite in the laboratory. 3
Mosquito control indoors
The second method of mosquito control and contact reduction is connected with installation of physical barriers, such as window and door screens and removal of mosquito-breeding sites in substructures, farm buildings by applying insecticides, which act as larvicides as well.
Permethrin-based and essential oil – based products can be sprayed on outside surface of screens, doors, window frames or wherever mosquitoes are likely to enter the home. In addition, treat surfaces around light fixtures on porches or other places where blood-seeking insects can land and gather. Moreover, the insecticides can also be sprayed in and around barns and throughout the stalls and safely used around lakes, ponds, and bog gardens as well.
Window screens and bed nettings
In fact, always try to stay and sleep in rooms with screens on open windows and doors or with air-conditioning. Plug an anti mosquito fumigator or liquid electric repellent in wall outlet, if you detect flying insects indoors. Use repellent aroma hangers and patches with natural oils.
In addition, you can also install additional personal protection, such as a bed net, if the area where you are sleeping is exposed to the outdoors or when you want to read or have a rest under the open sky.
Beside, keep children in beds (when sleep) and in strollers (when walk) covered by a mosquito net as well. Stick anti-mosquito peel-stick patches on clothing and hair cover, bedsides and strollers. If you hear or see mosquitoes at home, plug in an anti-mosquito fumigator or liquid electric repellent intended for babies.
Professional fumigation
Chemical whole-house fumigation to kill mosquitoes is one of the most effective, though not eco-friendly, mosquito control methods. This way of extermination is available with the help of professional pest control service.