Bed bugs are creepy creatures that breed in any crack at home and crawl out to feed on your blood during the night. You may detect eggs and bugs of all stages almost everywhere in your house. Under and even inside your mattress and bedding items, in carpets and couches. Besides, you may detect them on curtains, behind headboards and pictures, inside wall outlets. Comfortable temperature and available host are ideal conditions for their breeding. In most cases, only a professional bed bug exterminator can help cope with the pest problem.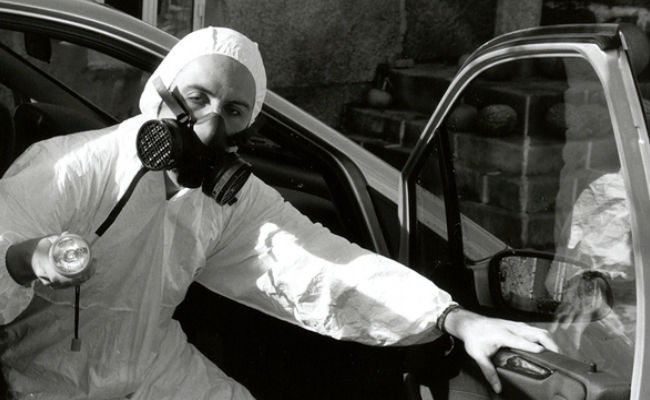 Bed bug treatment by professional bed bug exterminator is effective and provides a thorough elimination. Before hiring a bed bug exterminator, ask you friends or search in the net the contacts of 3 pest control companies in your district.
Bed bug extermination is specific. It differs from eradication of other home pests (flies, bees, mosquitoes, ants or termites). Indoor treatment by a professional bed bug exterminator costs in the range of $500 to over $1,000. The price depends upon the strategy you pick and the experience of the operator.
Besides, make sure to ask the bed bug exterminators about how long they have been dealing with the bed bug matter and in what capacity they have ever managed an infestation. What questions to ask your bed bug exterminator read here.
Preparations to the Arrival of Your bed bug Exterminator
Before the professional bed bug extermination, you should follow the recommendations of operators and prepare your home for treatment. First, remove baseboards, floor coverings. Then, vacate your beds from bedding items and mattresses. If necessary, move furniture aside to enable access to the infested areas.
Bed bug exterminator may ask you to dispose furniture and other infested items. Break or mark these infested items to prevent their being unintentionally recycled. Otherwise, the contaminated furniture will further the dispersal of bed bug populations.
In addition, remove your home plants, aquarium with fish and other pets. Besides, stay out and don't let anybody enter you home for effective treatment. When the bed bugs' extermination is over, clean the rooms and ventilate them properly.
Professional Options for Bed Bug Extermination
The bed bug exterminator will inspect your home and present a few options to eliminate your pests. All the methods are with varying costs.
Bed bug extermination with Heat, Steam or Ice
One of the most popular options is the application of extremely high temperatures. This method of bed bug control  is performed with professional equipment that raises the room temperature to or above 113 – 122 °F. This is a killing temperature for bed bug eggs, nymphs and adults.
Heat treatment is the most effective and least invasive way that may be performed in an entire building or a single infested area. Besides, it is capable of eliminating entire bed bug colonies with a single treatment. As a side advantage, other unsafe microscopic organisms and mold can likewise be disposed as well.
There is no risk of damaging your home or furniture even when the treatment covers the most ground in a broad infestation. Typically, it is followed up with sealing up furniture in plastic, as the bed bugs will try to insulate themselves from the heatwave.
In addition, heat treatment is followed up with HEPA air filtration to capture particles and biological matter.
More targeted bed bug treatments involve freezing them using dry ice or steaming them with a steam cleaner.
Whole-house Fumigation on Bedbugs
Fumigation against bed bugs is highly effective and used in the case when an apartment building is badly infested. Fumigants can easily penetrate all the contaminated areas via cracks and holes. They exterminate all home pests on the way. This process needs lots of chemical gas, such as Vikane. In fact, this sulfuryl fluoride gas is mostly used for fumigating termites. However, specialists apply this gas on bed bugs three times as much they use to get rid of termites.
Bed bug exterminators will seal the entire building structure before starting the whole-house fumigation process. This method of pest extermination is labour- and time-consuming. Unfortunately, it is expensive as well.
Vikane gas does not stain or smell. Besides, after the fumigation, the bed bug exterminator will air out your entire house or building and then test the interior air. If the levels of the gas are not hazardous, the homeowners can return their homes. In fact, the entire treatment may last several weeks, depending on how broad the bed bug infestation is. Thus, you will need to stay somewhere for some time. Moreover, fumigation is not recommended if you are worried about your famile members with weak immune systems, pets, or delicate furniture.
After fumigating process, the bed bug specialists may recommend a room-by-room supplementary treatment. It means that your pest control exterminators will distribute residual pesticides to keep any bed bugs away. This post-fumigation treatment provides long-lasting preventive effect against all insects that may eventually enter your home.
Bed bugs' treatment with Pesticides
They use the highly effective insecticides of new generation which are restricted only for professional application. As a rule, bed bugs' treatment with pesticides requires multiple visits. Besides, chemical bed bug extermination may be non-effective due to insecticide resistance and dispersal of the pests. According to a 2005 survey, only 6.1% of companies claim to be able to eliminate bed bugs in a single visit, while 62.6% claim to be able to control a problem in 2–3 visits. Application of insecticides may result in spread of bed bugs' infestations to neighbouring dwellings 1
Moreover, the historically effective insecticides that include malathion, dichlorvos, and pyrethroids became non-working. As bed bugs have already adapted pesticide resistance. Boric acid is an eco-safe and the least toxic insecticide for indoor use. However, borates are not effective against bed bugs as they do not groom. The US EPA hasn't approved the carbamate pesticide (Propoxur or Baygon) for indoor application due to its potential toxicity to kids after chronic exposure.
Studies of bed bug populations across the USA prove that they have resistance to DDT and pyrethroids. Nowadays, λ-cyhalothrin, bifenthrin, carbaryl are the most effective against bed bugs. Imidacloprid, permethrin, fipronil, and diazinon, are of medium efficacy. At last, spinosyn, chlorfenapyr, DDT and dichlorvos are the least effective. 2
At present, manufactures develop insecticides that combine pyrethroids with neonicotinoids.
Disadvantages of Chemical Extermination
The side effects of chemical treatment are:
1. pesticide contamination of mattresses and bedding items for long periods of time;
2. sufficient time must be given after application before the mattress can be used again;
3. the room must be properly ventilated or there is a possible health risk for the homeowners and exterminators;
4. there is a risk of the possible health effects, such as, an allergic reaction to the chemicals, other health risks including cancer, and acute neurotoxicity;
5. dispersal of bed bugs to neighbouring areas of the structure due to repellent effects of insecticides.